TOS (Terms of Service)
Last Version: 16/02/2023
By commissioning me in any kind of way, you are agreeing to the terms of service below:
I. GENERAL TERMS
The client must provide a concise visual reference and please, supplement it with any important information (not a wall of text). If you want an illustration with a similar style, PLEASE send it too.
Also, if you could send me a sketch/collage of your commission (even if is bad), character sheet (incluiding colors used), a pose (and PLEASE the angle, if is full/mid body) and any type of visual artwork that could help, please do it. Try to be as exact as possible.
You can even take references of past works I have done. If you liked an illustration I did in the past and you want your drawing in that style/quality, PLEASE SEND IT TO ME.
The accuracy of the character design may vary between the type of commission (cell shading, lineless) and I cannot promise your design will be done with 100% precision.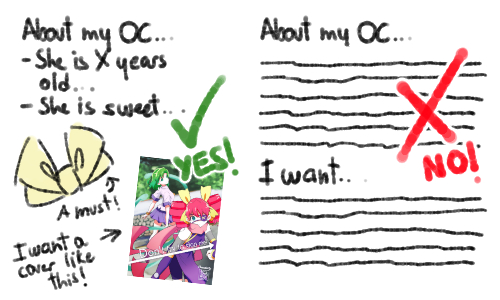 II. COPYRIGHT / USAGE POLICY
I reserve the right to post your completed commission on my social media (FB, Twitter mainly).
I reserve the right to use your completed commission(s) as advertisement or example images for future commissions.
The commissions I do are mainly for personal use. If you want them for commercial use, the price increases by 100% of their original price.
You may repost your commission(s) wherever as long as you credit any of my listed socials. I prefer you to use my twitter (@Misiwasy).
Please, refrain of altering the artwork in any way without my consent, this includes EDITS (or at least tell me about this during chatting so see what proceeds).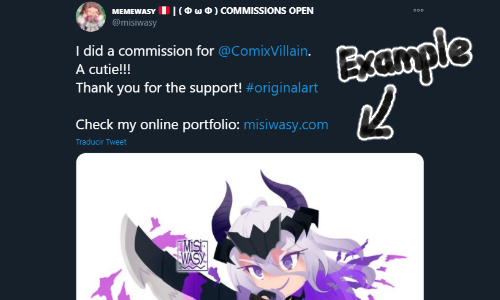 III. PAYMENTS
Prices are listed in USD currency and are made through Ko-Fi / Paypal Invoices. I DO NOT ACCEPT OTHER TYPES OF PAYMENT.
Payments can be made in two ways:
60% Upfront Payment (before the sketch stage) and 40% Rest (after the commission is done).

Make the payment of the full amount.
If the rest of the money isn't paid on the agreed date (this applies only if the payment is done in two parts), an additional 15% of the original price will be added and for each day it passes (counting from day one), a 10% of the original price will be added.
If your commission costs less than 50$ you have to make the payment upfront.
If you do not want me to post your commission online this will be considered as a private commission and you must tell me when you do the order. Private commissions always come with a 50% fee.
If the client demands a rush order this always comes with a 100% fee (this makes your order a priority).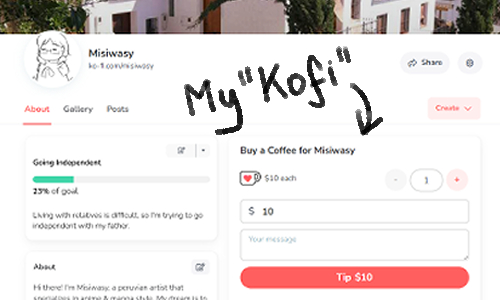 IV. WORKFLOW
Depending on the commission's complexity, I will provide a rough sketch or sketches for the final artwork.
Secondly, I will do a cleaner version of the sketch – with some colors – and after that, I will continue with the lineart stage and eventually, the final piece. Between these sketches I may provide some WIP(s) (Work In Progress).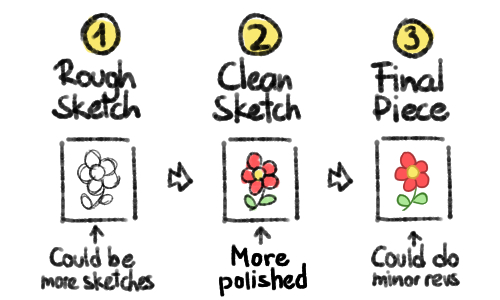 V. CUSTOMER SATISFACTION
Two revisions – including a major revision – can be made on the initial sketch. From the third revision onwards, the cost will be 20% of the total.
Minor revisions can be made on the linework stage (again the limit for them is two). Past the limit the price for each revision starts at 30% of the original price.
Minor revisions can be made on completed work ONLY if the artist has made a mistake / missed a detail (the limit for them is one). Past the limit the price for each revision starts at 40% of the original price.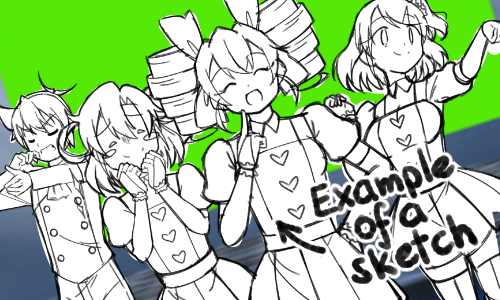 VI. CANCEL / REFUND POLICY
The artist has the right to cancel and refund the commission at any time.
Please be patient and do not rush me. If this happens, your commission MAY be cancelled.
Refunds are only allowed if the commission has yet to be paid for. I will not do any refunds after you have received your WIP sketch and approved it.
My work cannot be used for NFTs or any other blockchain-related technology.
Strictly no full refunds if the work is already in progress. A partial refund can be discussed.​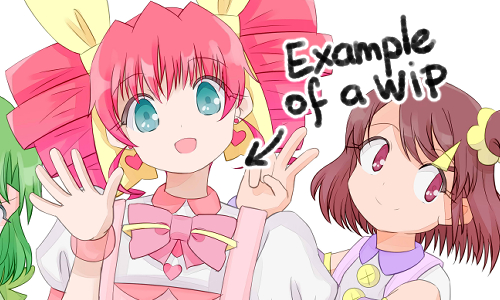 Credits for this TOS: Yamio / Jirvey / Mr. Froggo / Himey
FAQ (Frequently Asked Questions)
How can I commission you?
You can send me an email to misi(at)misiwasy(dot)com or send me a message through Twitter. My DMs are always open.
What are you willing and not willing to draw?
I will draw: OCs, kemonomimis, animals, landscapes, props, fanarts and ships.
I won't draw: NSFW, furry*, robots and complex armor. 
*Some of them can be discussed after checking the character's design.
In which size do you do your commissions?
Most of the time I use these presets but the size of the artwork may vary because of the type of commission (and also it can be discussed prior to it).
Emote Commission: 112 px x 112 px / 56 px x 56 px / 28 px x 28 px @ 72 dpi
Chibi / Regular Commission: A4 @ 300 dpi
Sketch Commission: 2480 px x 2480 px @ 300 dpi
What will I obtain after I commission you?
Depending on the nature of the commission, you will obtain a high quality version of your artwork in .JPG format and even .PNG format in most of the cases. A layer version can be possible BUT you have to specify it BEFORE starting the commission.
Which is your ETA (Estimated Time for Arrival)?
Depends on the commission. It may vary between one or two days to even two weeks because of the complexity of the artwork.
Can I ask for a change in the design?
This will be ONLY ALLOWED in the rough sketch or even the cleaner sketch stage.
When can I ask for a refund?
You can ask for a refund only if you haven't paid for your commission (rough sketch / cleaned sketch phase). If your commission is in the lineart phase or later phases, a partial refund can be discussed.
Can you imitate another artists' style?
I prefer not to do it but I can take it as a reference. I will do my own take of it.
In the future will you accept manga commissions?
Yes, I will. Hopefully soon.
When are you going to draw mechas?
Sometime in the future. I want to do my own mechas.
Would you make some animations in the future?
Yes, I would. I have been doing some experimentation so… wait for it. Eventually.